All characteristics and provisions of an area (lab) are stored in the module and a risk classification (risk profile) of the area is determined by an internal Safety & Health Committee, which takes into account the relevant legislation. A workflow engine takes care of the annual update by the Committee.
Via a link with the Safety Report module it is safeguarded that the experiments fit within a lab's risk classification. At the other side the actual experiments define the actual risk classification of a lab. The latter is important to know in case of emergencies.
The module provides a (mandatory)
door sign with pictograms for hazards, precautionary measures (personal protective equipment) and prohibitions.
Via a live link with the (Bio)chemicals Inventory module, the present amount of dangerous compounds per ADR class and the gas cylinders and gas networks are included on the door sign.
The persons who are responsible for safety in the lab are displayed on the door sign. Via a personalised access rights system the Area Supervisor can edit his own door sign. The door sign can be printed or shown on a local display outside the lab directly from the database.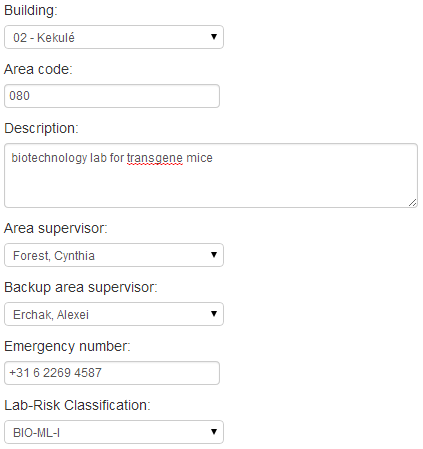 Functionality
Maintain characteristics of areas/labs
Link Area supervisors and dedicated Safety Officers
Synchronise door signs with Inventory
Print or display door signs