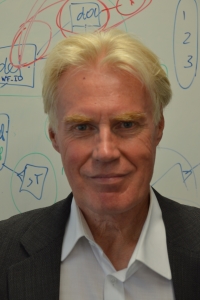 Han Bakker graduated in Chemistry from the Free University of Amsterdam with a specialism in Biochemistry. After his study he worked as a teacher in Clinical Chemistry at the Utrecht School for Laboratory Technicians (later University of Applied Sciences Utrecht)
During his career he fulfilled different functions as project manager and director at the University of Applied Sciences Utrecht and the Dutch Polymer Institute/Eindhoven Technical University in the fields of Educational Technology, Knowledge Management, Innovation, Research Management, Human Resource Management and Occupational Health & Safety, always including a component to advance (inter)national collaboration.
Han Bakker is founder/owner of Visient BV (marketing of The Promise Suite since 2001) and together with Koos van Leeuwe founder/owner of Lab Servant BV (marketing/development of The Lab Servant). Within Lab Servant BV he fulfils the role of consultant/managing director.