Overview
All electrical equipment must be inspected with regard to electrical safety according to Dutch NEN3140:2011 at regular intervals (once per 3-4 years). Although this does may not always happen, the Labour Inspectors and Fire Department have enforced compliance since the revised standard came into force in 2011.


A prerequisite for being able to carry out inspections is the comprehensive registration of all equipment.
In this module, not only all equipment is registered, but also the results of (periodic) maintenance, failures and their solution are stored, so that it can be proven that inspections and maintenance are carried out regularly according to standards. This is important when incidents occur with electrical equipment in which the liability of the employer is at stake.
A workflow engine (robot) creates actions on the 'to-do' list of the persons responsible for inspection and periodic testing. Monitoring of the execution of actions and the storage of test results are included.
The registration of lasers also takes place in this module. In a separate module on Laser Safety, the enforcement of laser safety is given form.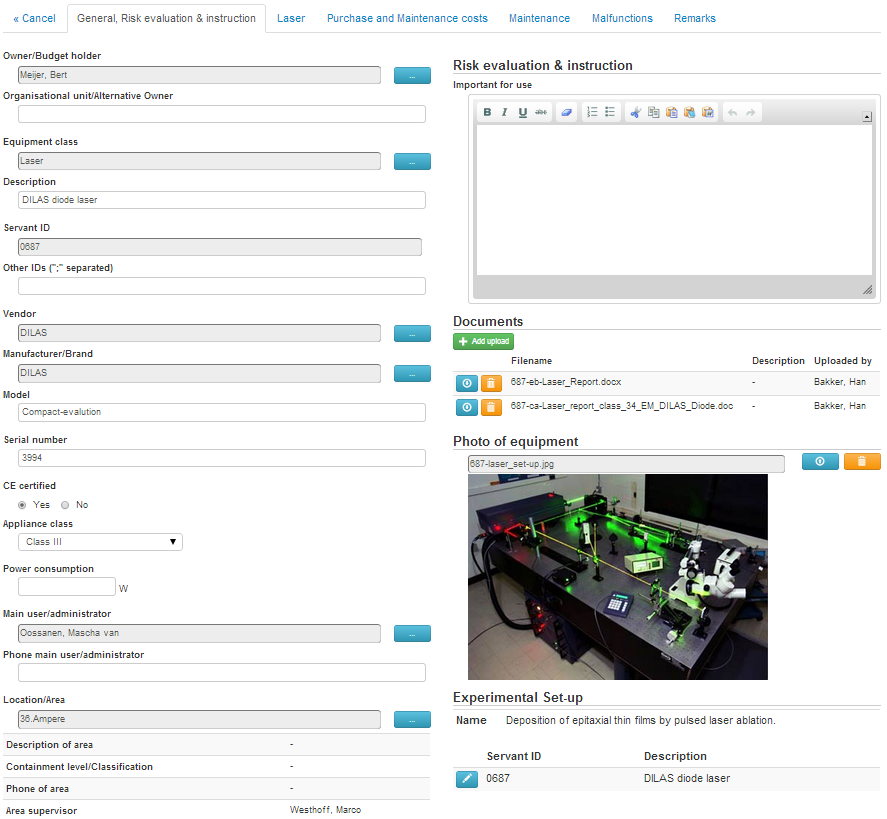 Functionality
Register equipment with all necessary details for identification, maintenance, malfunction, service contracts, costs of ownership, results of electrical safety tests
Assemble equipment in experimental set-ups and register users of the set-up
Upload documents: instructions, safety reports, plans, lay-outs et cetera
Alert by robot for periodic maintenance and safety testing
Print overviews of use, malfunction and annual costs to decide on replacement