Safety Instruction
&

Testing
Overview
The importance of Instruction & Testing (I&T) is growing due to the responsibility of the employer to provide a safe workplace. In recent legal procedures, the liability of the employer has been emphasised, sometimes in contrast with former procedures (for example with regard to liability to third parties who are working within the premises of the employer).
The I&T module is linked via a workflow to the access policy for new employees, students and contractors. They all have to follow instructions and take a test before given access to risk areas. The risk class of an area is registered in the module for Areas, Labs & door signs and determines the quizzes that have to be made.
Instructions are prepared by safety officers in Powerpoint files which are saved as PDF. The files may include sound and video. No specific training is needed to prepare instructions and questions, but support by an instructional technologist is recommended.
The module provides a random selection of questions from a set, which are presented as multiple choice. Instructions and questions are shown in two browser tabs, so a candidate may switch between them and process the offered content actively. We refrained from more complex ways of presenting forms such as animations to keep things simple, cost-efficient and independent of specialised staff.
As soon as a candidate has passed the test, the workflow takes care of the follow‐up actions, which are communicated to the candidate and the involved area supervisors. All results are stored in the central database.
Our I&T module distinguishes itself from other I&T systems on the market by an easy management of instructions and questions. The integration with corporate systems and other modules of the Lab Servant reduces maintenance and makes the system sustainable in the long run.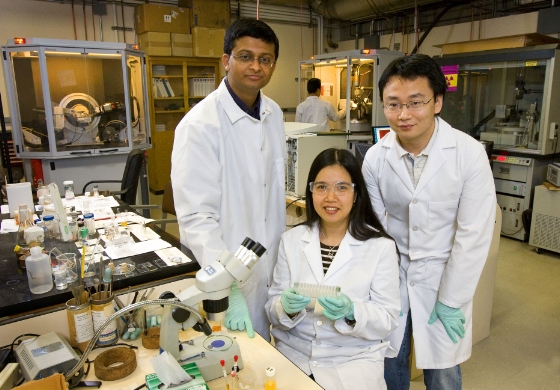 Researchers in Omar M. Yaghi's Laboratory – UCLA
Functionality
Maintain questions and groups of questions
Maintain quiz definitions based on (groups of) questions
Create Instructions in Powerpoint including sound and video
Link employees, students, contractors to instruction & quiz
Keep track of quiz results (administration)
Monitor validity of test results and reassign instructions to candidates when due
Link lab/area access to quiz results (via campus)